A man who becomes the Home Ministry of India after the great struggle. While having a normal education but totally dedicated to do something for the
A man who becomes the Home Ministry of India after the great struggle. While having a normal education but totally dedicated to do something for the nation, for the country people. his responsibility is to maintain India Security. The Home Ministry always be the head of the Ministry of Home Affairs of the Government India.
Let's talk about the Home Minister Rajnath Singh political carrier, family background, education, Age, wife, son, daughter, Address, caste, Rajnath Singh constituency, son-in-law, social profile- twitter, facebook, images, news & More.
Rajnath Singh Biography / Life Story
Rajnath Singh currently appointed as a Home Minister of Indian Governance. He started his career at the age of 13 with the Rashtriya Swayamsevak Sangh from 1964, he was connected with the organization until during his employment as a physics lecturer in Mirzapur. In 1974, he was got selected as a secretary for the Mirzapur unit of the Bharatiya Jana Sangh, the predecessor of Bharatiya Janata Party.
From that time consistently he joined the various political department in BJP(Bhartiye Janta Party). That all the his political carrier has been mentioned in the below scroll point.
The main part of his political assocaition been served as the Chief Minister of Uttar Pradesh and as a Cabinet Minister in the Vajpayee Government.
He also appointed as a President of the BJP twice 2005 to 2009 and 2013 to 2014.
The biography of Honourable Rajnath Singh with his political carrier, wiki, life journey, family, personality and son & Daughter with the interesting and unknown fact about Ranjnath Singh.
Rajnath Singh Wiki
Rajnath Singh born on 10th July 1951 in a farmer's family at village Babhora, Tehasil Chakia, District Varanasi, now the Tehsil Chakia comes under the district Chanduli (UP).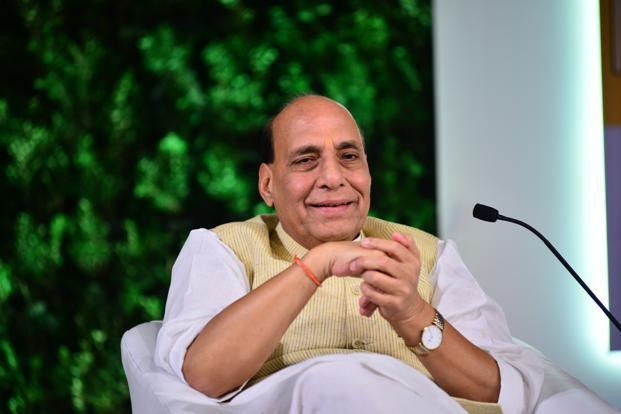 He belongs Hindhu Rajput families. His father name is Shri Rambadan Singh and mother's name is Srimati Gujarati Devi.
Name
Rajnath Singh
Profession
Indian politician
DOB
10 July 1951
Age (as in 2018)
67 year
Birth Place
Bhabhaura, Chandauli, Uttar Pradesh,
India
Zodiac Sign
Cancer
School
Not Known
University
Gorakhpur University, Uttar Pradesh,
India
Qualification
MSc Physics ( Gorakhpur University)
Address
Rajnath Singh, 17, Akbar Road,
New Delhi, India-110 011.
Hobbies
Reading
Height(approx.)
in cent. 175 cm
in meter – 1.75 m
in Feet- 5'9″
Weight(approx.)
In kilo- 74 kg
in pound- 163 lbs
Rajnath Singh Affairs & Wife
Well, this is not known in public about his affairs and who was his girlfriend. This is not Not Known Fact as of now.
His wife name is Savitri Singh, they were got married in 1971.
Rajnath Singh Son & Daughter
He is also a Good Father of three children. He loves a lot of his son and daughter as like nation love. He also used to give the time with the family and teach the children to for the country, that's why his one elder son is in politics with him.
His elder son name is Pankaj Singh, he is also a politician.
Another son is Neeraj singh, as of now he is a student.
His daughter name is Anamika Singh, she is a student and social worker.
Rajnath Singh Net Worth
Earlier there was viral rumor about Rajnath Singh Net Worth, that he has the lot of black money. But according to government estimated report as in 2014 total net wroth was 2.51 crore in INR.
Salary is 1.40 Lakh INR/ Month
Rajnath Singh Political Carrier
Before 1974 Rajnath singh was completed his education life, he was the brilliant stundent in his school and university. He alwasy was be the great honest and fellower of teacher among student in the classroom.During the study he was working as a RSS worker since in his student life.
During 1969 to 71, he became himself as a Organizational secretary of ABVP Gorakhpur division.
On 1972, he made himself General Secretary of RSS Karyavah Mirzapur city.
Thenceforth Rajnath singh started the carrier in politics in 1974 became Secretary of Bharatiya Jana Sangh, Mirzaur.
Consistetnly on 1975, he was selected as a District President of Jana Sangh and District Coordinator of JP Movement.
While after don with the great social work to help and stand our fot the pepole, he fight the MLA election and got selected as an MLA in UP Assembly in 1977.
Between 1983 to 1988, He became a State Secretary of UP BJP. Meanwhile, during this period of political position, he stated as President of BJP's Youth Wing (BJYM) in 1984. After this year In 1986, he became National General Secretary of BJYM. Continuesly moveing ahead he became National President of BJYM in 1988.
During 1988 to 1991. he served as MLC for UP Legislative Council in 1988, forward himself and became Education Minister in 1991. During his official work as Education Minister in UP, he established few places by introducing the Anti-Copying Act and Vedic Mathematics in the syllabus and correction of various portions of history textbooks.
After few year, from 1994 to 1997, he served as a member of the Rajya Sabha, also the Chief Whip of the BJP in Rajya Sabha.During this period of poilictical works, he was the main objective and pleayed a vital role to overcome BJP from the political crisis.
In year 1999 on 22 novemeber,he became Union Surface Transport Minister. During this tenure, He driven the dream project-National Highway Development Programme (NDHP) of Shri Atal Bihari Vajpayee.
On October 28, 2000, he turned a Chief Minister of UP, During 2000 to 2002 he got selected twice as MLA from Haidargarh constituency in Barabanki. In 2002, He became National General Secretary of BJP.
On May 24, 2003, he became Union Minister of Agriculture. During this period he intiated the many project like:- Kisan Call Centre and Farm Income Insurance Scheme.
He re-again got selected as the National General Secretary of BJP in 2004. This was the twice in his journey, while got selected as General Secretary, he handover the two states Chhattisgarh and Jharkhand, where he has done the tremendous job and showed their leadership quality and organizational ability.
Moving ahead on, he became the BJP National President till December 19, 2009, he held on this position. Thenceforth he got elected as MP Ghaziabad in Uttar Pradesh.
Similarly, again In May 2014, he was elected MP from Lucknow in Uttar Pradesh.
But meantime On May 26, 2014 Shri Rajnath Singh took oath as the Union Minister of India.
Since 2014, after taken the oath for Home Minister, Presently he being working at this position, and currently serving as Home minister.